Hyderabad Dum Biryani
How to make Hyderabad Dum Biryani ? It is a delicious and aromatic dish that is popular in India and around the world. Here's a recipe to make Hyderabadi dum biryani at home:
Ingredients:
500 gms basmati rice
1 kg chicken
2 cups yogurt
2 tsp ginger paste
2 tsp garlic paste
2 onions, sliced
4 green chilies, chopped
1/4 cup mint leaves, chopped
1/4 cup coriander leaves, chopped
2 tsp red chili powder
1/2 tsp turmeric powder
2 tsp biryani masala powder
2 tsp ghee
4 tbsp oil
Salt to taste
Saffron (optional)
Fried onions (optional)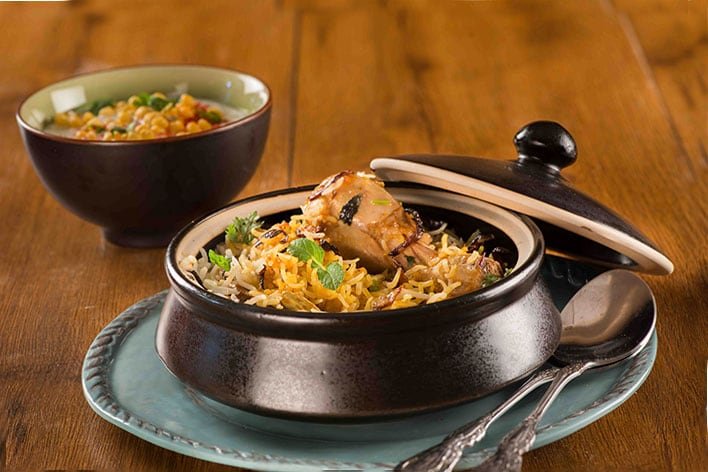 For the biryani masala:
2 bay leaves
2 cinnamon sticks
2 black cardamom
4 green cardamom
6 cloves
1 tsp shahi jeera
Instructions:
Soak the rice in water for 30 minutes. Drain the water and keep the rice aside.
Clean and wash the chicken. Add yogurt, ginger paste, garlic paste, red chili powder, turmeric powder, and salt. Mix well and marinate for at least an hour.
Heat oil in a pan and fry the sliced onions until golden brown. Keep aside.
In the same pan, add the chicken along with the marinade and cook until the chicken is 3/4th done. Keep aside.
In a large pot, bring water to a boil. Add salt and the whole spices for the biryani masala. Add the soaked rice and cook until the rice is 3/4th done. Drain the water and keep the rice aside.
Take a large, heavy-bottomed pot. Spread a layer of rice on the bottom of the pot. Add a layer of chicken on top of the rice. Add some chopped mint leaves, coriander leaves, and green chilies. Repeat the layers until all the rice and chicken are used up. Add a few spoons of ghee and fried onions on top.
In a small bowl, soak saffron in milk or water. Pour it over the biryani.
Cover the pot with a tight-fitting lid and seal the edges with dough or a kitchen towel. Cook on low flame for about 20-30 minutes or until the rice is completely cooked and the chicken is tender.
Remove the lid and mix the biryani gently. Serve hot with raita and salad.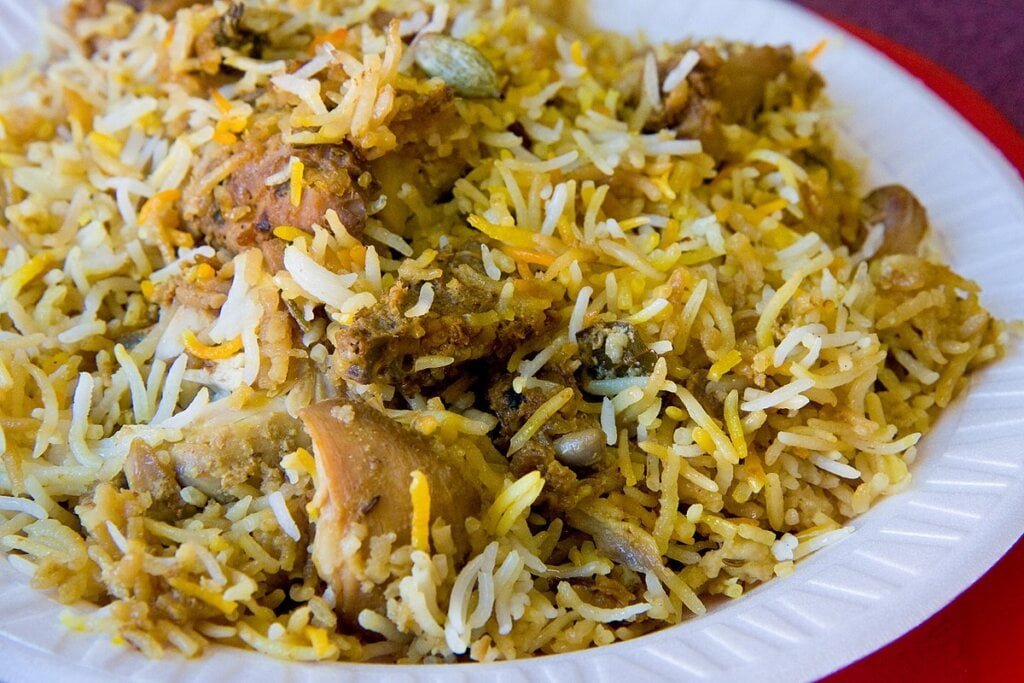 Enjoy your homemade Hyderabadi dum biryani!
If you like our blog, please do check out our other categories like , Animal Facts, Human body facts, scientific Facts, Health Facts, Amazing Facts
Hyderabad Dum Biryani
Thank you folks and requesting to please visit our website frequently to view new christian articles, lyrics and quotes. Visit our Instagram page : onewaytointernity, and our facebook page: fb/Onewaytheonlyway
Please visit for more christian stuff :
Visit : https://onewaytheonlyway.com
Quora : https://onewaytheonlyway.quora.com
pinterest : https://in.pinterest.com/madhuym2012/
Facts Blog : https://factsblog.in
Tumblr: https://www.tumblr.com/blog/onewaytheonlyway
YouTube : https://www.youtube.com/c/Tysonpaul