Facts about Lata Mangeshkar
Facts about Lata Mangeshkar, Legendary singer and Bharat Ratna recipient Lata Mangeshkar in Mumbai. Known as the 'Nightingale of India', she has left behind a treasure trove of songs vocalised in her mellifluous voice, sung across a career that lasted for over 70 years. Lata, considered one of the greatest Indian playback singers, will live on through her melodies. Her solos and immortal duets with Mohammed Rafi and Mukesh, along with a legion of other prominent Indian singers, are among Hindi cinemas most memorable songs.
Latha Mangeshkar was born in a family of performers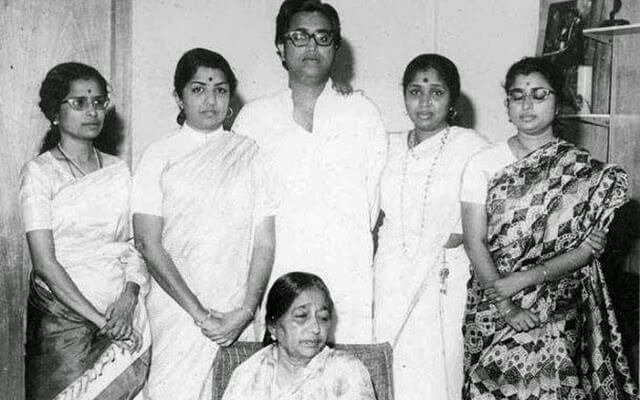 Lata Mangeshkar belonged to a family of performers.
Her father ran a theater company, and Lata grew up with a love of music.
The aim of the sisters (Lata and Asha Bhosle) when they took up singing was to carry forward their father's legacy.
'Whenever Asha has a show she seeks my blessings first. I've heard her lyric book has my picture in it.
Did u know ?
Lata Mangeshkar's first song was removed from the film
Lata recorded the first song of her career "Naachu Yaa Gade, Khelu Saari Mani Haus Bhaari" .
In 1942 for a Marathi movie called Kiti Hasaal. But unfortunately, the song was removed from the film's final cut.
Lata Mangeshkar once fainted while recording a song
Lata once fainted while recording a song with music composer Naushad.
She revealed the same in an interview with Firstpost and said, "We were recording a song on a long hot summer afternoon".
Lata Ji never listened to her own songs
Lata Ji once said that she does not listen to her own songs as if she did, she would find a hundred faults in her own singing.
Lata's fame extends beyond boundaries
Lata was not just an Indian singing legend. She holds the honour of being the first-ever Indian to perform in the prestigious Royal Albert Hall, London. The government of France conferred her with the Officer of the Legion of Honour in 2007, which is the country's highest civilian award.
Lata once held a Guinness world record
The 1974 edition of The Guinness Book of Records had listed Lata Mangeshkar as the most recorded artist.
Facts about Lata Mangeshkar
If you like our blog, please do check out our other categories like , Animal Facts, Human body facts, scientific Facts, Health Facts, Amazing Facts
Thank you folks and requesting to please visit our website frequently to view new christian articles, lyrics and quotes. Visit our Instagram page : onewaytointernity, and our facebook page: fb/Onewaytheonlyway
Please visit for more christian stuff :
Visit : https://onewaytheonlyway.com
Quora : https://onewaytheonlyway.quora.com
pinterest : https://in.pinterest.com/madhuym2012/
Facts Blog : https://factsblog.in
Tumblr: https://www.tumblr.com/blog/onewaytheonlyway
YouTube : https://www.youtube.com/c/Tysonpaul
latamangeshkar #latamangeshkarbiography #latamangeshkardeath #latamangeshkarbio #latamangeshkarsongs #latamangeshkarsisters #latamangeshkarfamily #latamangeshkarfamilyphoto #latamangeshkarrecords #latamangeshkarawards Facts about Lata Mangeshkar